Tranche 2: EOI window closed after high number of submissions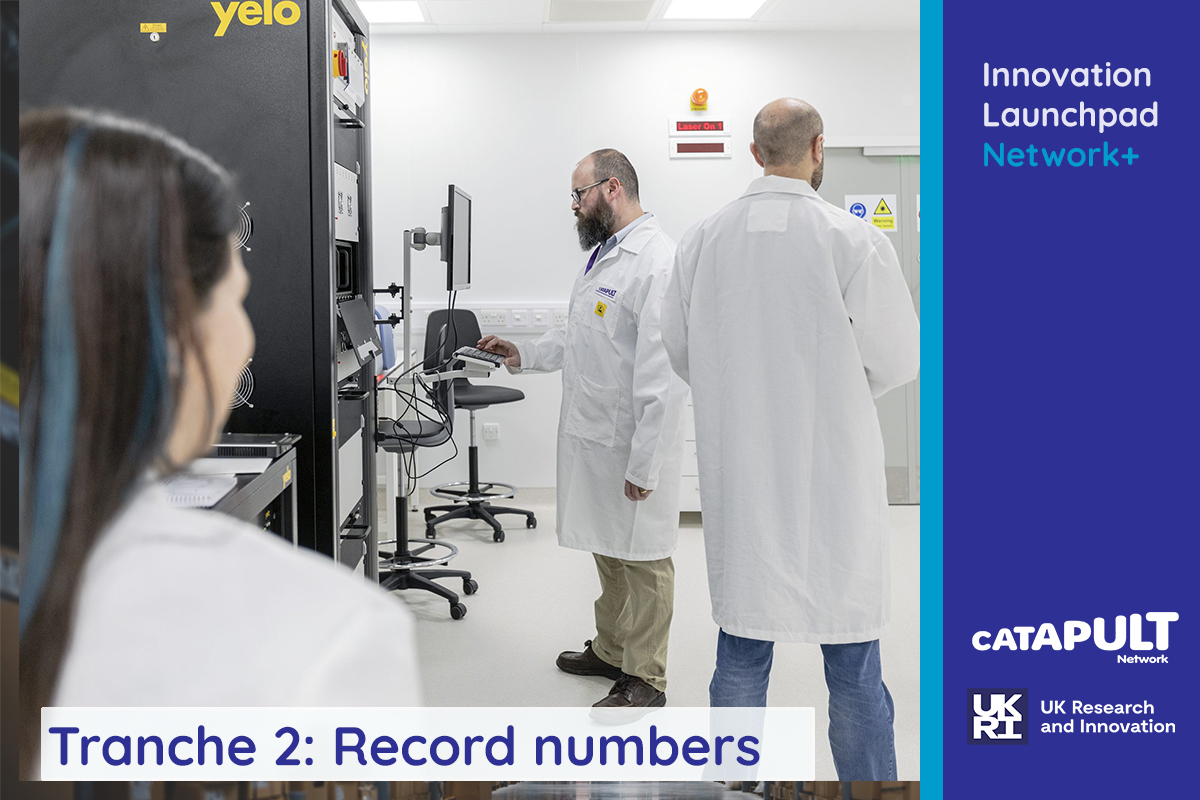 The Innovation Launchpad Network+ is celebrating a successful opening to Tranche 2 of its flagship Researchers in Residence scheme with more than 100 Expressions of Interest (EOI) applications received after a launch event held in Belfast in April.
The EOI window attracted 106 applications from researchers based at 52 different academic institutions, a huge increase on the first phase's number of 32.
These figures show the strength-of-growth of the nation-wide research and innovation group after a first phase which attracted more than 125 enquiries. As was the case in the first round, all three key themes of the network (Net Zero, Resilience, Healthcare and Wellbeing) and all 9 Catapults are represented in a captivating and diverse portfolio of applications which will help set the UK on course to achieve its strategic ambitions in the coming years.
With the first round of researchers set to begin their projects shortly, the Innovation Launchpad Network's panel of experts will convene over the summer to nominate the most suitable projects to be taken forward and offered a £50k grant.
Director of the Network Peter Osborne, from the University of Sheffield's Advanced Manufacturing Research Centre (AMRC) said: "We've been blown away by the strength and depth of the applications we have received in Tranche 2. This time around we received applications from more than 50 different universities across all 4 home nations. What was most encouraging was the range of projects outside the traditional focus on science and engineering. This time we received a greater number of multidisciplinary projects which considered the application of social sciences and/or business and economics to help to ensure that new knowledge could be adopted by a wider range of organisations."
The Innovation Launchpad Network+ is a national collaboration, led by the University of Sheffield along with the Universities of Leeds, Strathclyde, Warwick, Bristol and Exeter, and the Catapult Network. There are currently nine Catapults, each established by and working in partnership with Innovate UK. They support businesses across healthcare, energy, emerging technologies and manufacturing in transforming great ideas into valuable products and services. The network has been funded by the Engineering and Physical Sciences Research Council (EPSRC).
The second round of funding demonstrates the Innovation Launchpad's commitment to creating new links between individuals or groups and the Catapult Network, and is on track to delivering more than 100 world-class Researchers in Residence programmes which will have a huge impact on the UK government's NetZero, Resilience and Healthcare and Wellbeing strategies.
Tranche 3 of the Researcher in Residence scheme will open in October 2023.
---
Additional information 
About the Catapult Network
The Catapult Network is composed of nine world-leading technology and innovation centres established by and working in partnership with Innovate UK. They support businesses in transforming great ideas into valuable products and services. They deliver impact across the UK economy, enabling businesses to thrive in global markets.
For more information visit the Catapult Network.
About the Researchers in Residence scheme
The Research in Residence (RiR) scheme promotes academic engagement and is designed to enable researchers to work within the Catapult environment as part of one or more centres, undertaking a project or activity in an area of strategic importance for Catapults. As well as increasing knowledge exchange and co-creation between academia and the Catapults, these awards allow the researcher to gain deeper application-specific knowledge across a range of sectors and nurture the talents and skills development across both research and Catapult.